Unveiling the Secret Ingredients of Successful Content Marketing for Startups and Freelancers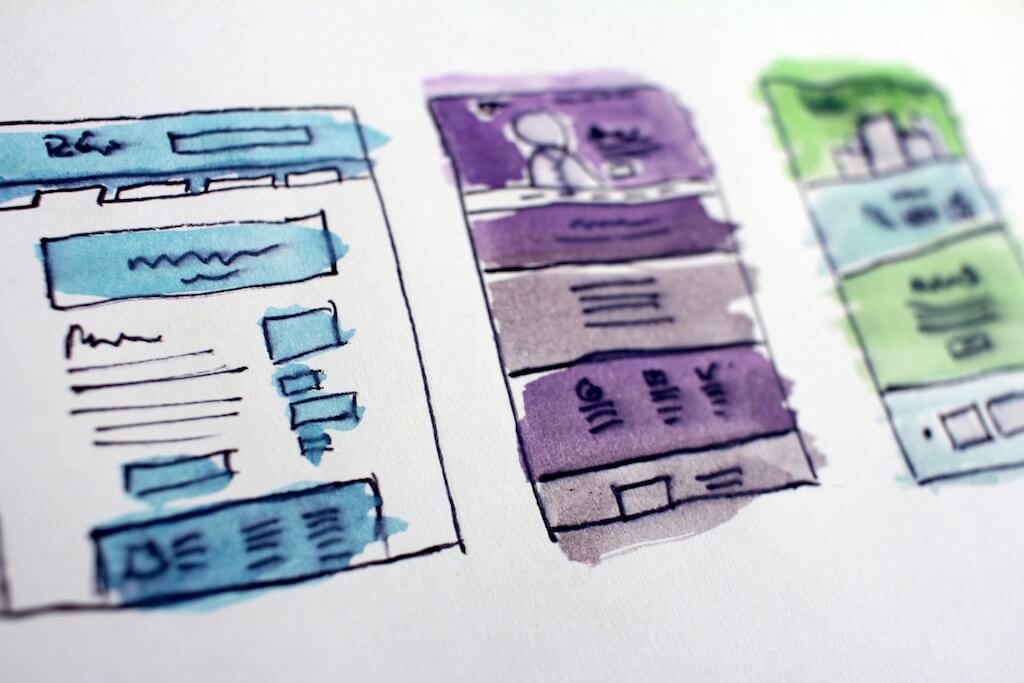 Simply put, content marketing is about stimulating your audience for sale through text and multimedia content.
Whenever you as a marketer sell your audience a product or service, your success depends on a few or more drivers that hit the sales funnel. Content type, platform, targeting, landing page are just a few factors that can make or break your campaign.
Although many things can impact your content marketing success, one remains consistent: your customer's journey.
You know that people see on average 5,000 ads per day on web and mobile via multiple marketing channels like Youtube, Medium.com, and Instagram. You have to be truly persistent to effectively respond to high competition, and your content marketing campaign should be hyper-personalized and customer-centric, or you will likely fail otherwise.
In this story I describe the top 7 ingredients of successful content marketing for startups and freelance writers. They are:
Consistent content
Right focus
Share to be shared
Personalize
Be relevant
Engage, be unique
Network
1. Deliver content consistently over a long period of time
Content is what helps you convince your audience to buy your product or service. Consistent content can double your sales because it creates a magnetic feed around your brand and keeps your prospects informed about product updates, special offers and discounts.
Here are 3 tips to build a consistent content delivery chain:
Decide on one type of content (images, videos, articles, podcasts). For example, if you sell computer parts, you can write stories, tips, guides and news that will help your customers choose and use computer hardware and software.
Choose two or three platforms for content sharing and socializing, for example Medium.com for your blogging, Twitter for social shares, and LinkedIn for professional/business growth. Remember that distributing content via many various platforms at once won't bring much success to you because you will deliver your message to a broader audience but lose sight of your target one.
Deliver content to your target audience over a long enough period of time, at least 8-9 months. You need a year or so to attract a truly loyal audience for your product/service and build the audience's trust, so they can rely on your regularly updated and useful feed.
2. Focus on your ideal client

Answer these questions to identify your ideal customer:
What are the needs of your customer? Ex.: if you are selling antivirus and business security software, your ideal customer may be companies and individuals that need to keep their desktop and mobile safe.
What kind of content do they like to read, watch or listen to? What social groups, channels and news feeds can they be subscribed to?
How old are they? What generation do they belong to – Baby Boomers, Millennials or Centennials?
Do they prefer to access content on mobile or web? How often and when?
Once you know your ideal client you begin to write rockstar content that solves their problem.
3. Share to be shared
The success in content marketing for a startup depends on this absolute rock-solid principle: the more content of your audience you share, the more shares of your own content you get from the audience, – or "share to be shared".
As people like to be seen and heard online, you can build your startup content strategy on shares, comments, and feedback. By proactively engaging with the content of your leads and customers, you pave the way for your business to be well noticed and recognized in the middle-to-long run.
Share and retweet their stories on social networks, leave comments and likes, ask questions, refer your customer as an expert (if they really are).
4. Personalize your content
You are one step away from a customer making a new or repeat purchase if your piece of content is personalized for that customer. Content personalization is about creating an copy that captures the sweet spot for the customer and offers something that the customer really needs.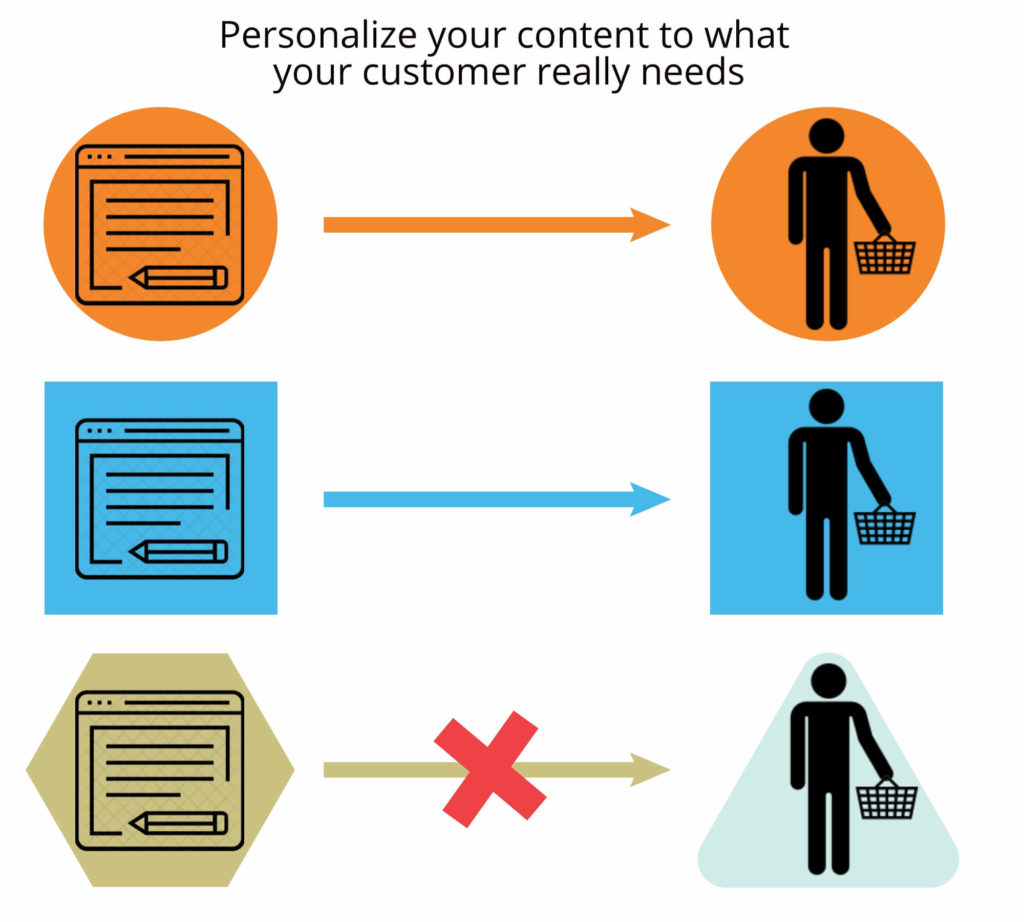 Personalization refers to "right things right". If your content reaches an individual with the right offer, at the right place, at the right time and in the right context, you have got a new customer – congratulations! You made the right content right.
But you can't effectively personalize your content without insights about your customers and prospects. Your in-house CRM system will be the best source of multidimensional insights about your customers, such as purchase history, feedback and requests, transactions, even social media postings. To know your prospects and potentials buyers, use 3rd party data sources. If you use right data to do personalization, you will find content marketing gold.
5. Be relevant, listen to what customers really need from you
An ability to listen to other people lets you keep your content strategy relevant and up-to-date. You use in-house and 3rd-party customer data to make your articles and videos more intimate.
Also, use AI-powered data intelligence tools to find out what prospects like to read or watch now and to create more compelling stories. Learn more about AI for marketing and AI for project management.
Your story becomes even more compelling if it ties to the news that are relevant to your customers. Listen to what's going on in a customer's world taking into account location, age, nationality, religion, interests etc. You will then get valued insights to create a piece of content that appeals to the customer and stands out your brand from the competition.
6. Socialize and engage; only unique ideas matter
Every startup business has to be unique in order to add value. You have to offer unique ideas and solutions to your clients, prospects and communities. Every time you share a new post or engage with people in social media, you bring something special that offers others an effective solution whatever the problem is.
Your content marketing strategy should aim to socialize and engage with prospects and customers. You don't want to use social media as just another advertising platform to promote your product or service.
In this context, unique means engaging, social. Your content is unique if you create it to engage with leads and communities, not to sell something special.
Engagement in social media is very important because most of us like to socialize and entertain. By proactively engaging with people on social media, you are likely to create and grow a loyal community around your startup exponentially better than using it just for advertising.
7. Network as much and often as you can
In-person and online networking builds meaningful connections and bridges the gap between sellers and buyers. By attending local, international and online networking events, you can meet a lot of people to talk business and explore growth opportunities.
Offline events like conferences, summits, cocktails, and parties are great to network in-person, meet and listen to people, be a speaker and tell the audience why your business matters. These are just few events you can attend:
See more digital marketing events to attend for interpersonal networking.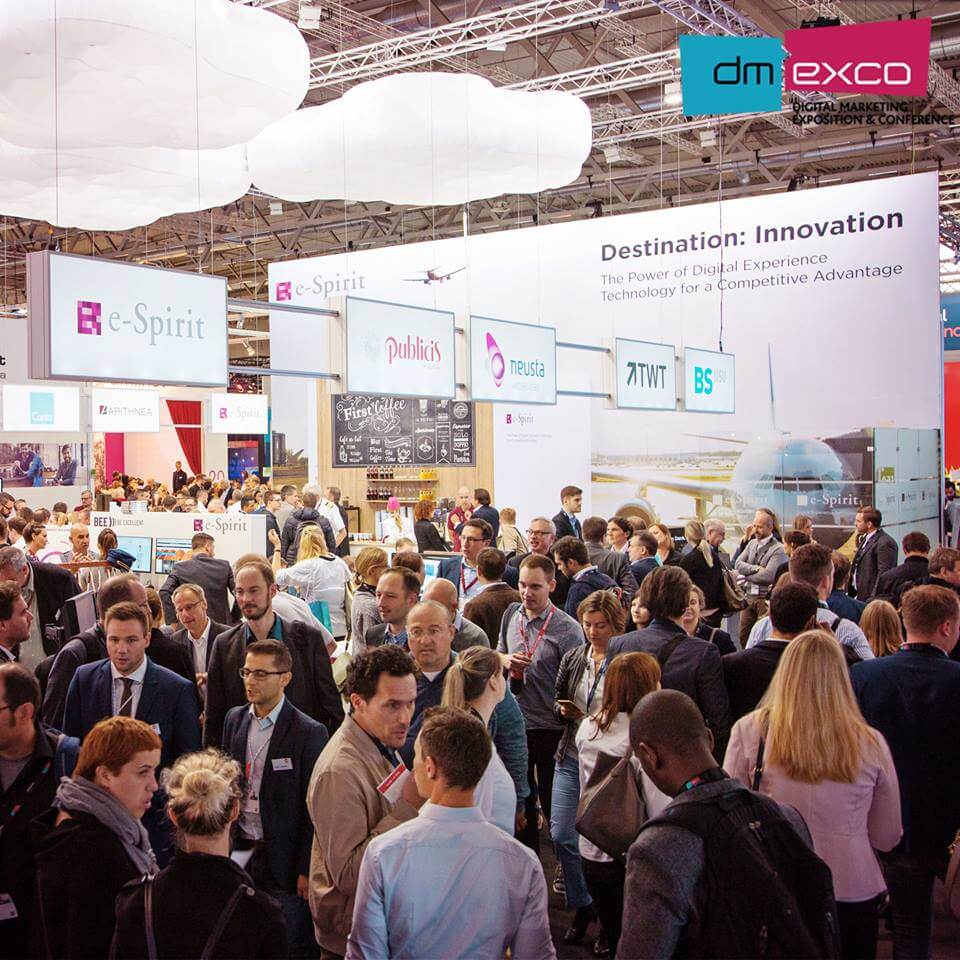 Online networking events like social discussions on Twitter or Facebook, expert webinar series, and live presentations are best to engage with a wider audience (compering to offline events) and build digital relationships.
Here are the benefits of mastering online networking:
You can share any type of content on the screen at the same time (voice & video stream, graphs, whiteboards, banners, etc.)
Use the power of social media to attract a wide and diverse audience including prospects, influencers, industry leaders, competitors, even haters
Flexibility in scheduling the right time
And last but not least, you have to build your content marketing on the interpersonal relationships, communities and fans. Your success will depend on your ability to communicate and engage via content.
As nowadays new expectations for knowledge, tools and trends are coming faster than ever before, it is the right time to explore new content marketing opportunities, new channels and new challenges. Don't be afraid to fail in these experiences. Share your stories, guides and expertise with others as long as this content creates value for few people at least.