Virtual Sales Assistant AI to Grow Pipeline and Automate Sales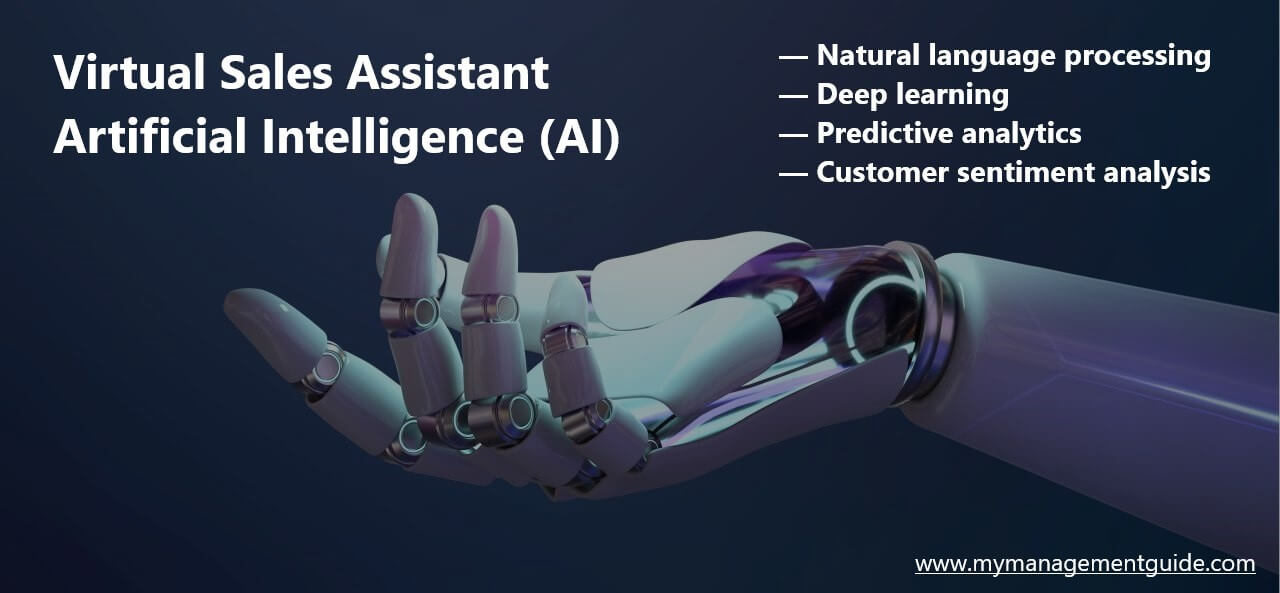 AI-powered sales assistant software can be used to reach out to people in a more human way. It helps salespeople and marketers create the perfect personalized customer journey that gets new clients in the door.
Sales assistant AI, also known as a virtual sales chatbot, is an intelligent software tool that uses conversation techniques, emotions, and persuasive language to get people into buying. There are many benefits of using this innovative technology in business, including connecting with buyers on a personal level, reducing resistance rates, and increasing conversion rates.
In this article, we will go over the definition of sales assistant software, how AI powers it up, and what the best selling AI-powered sales assistant software are.
What is Sales Assistant AI?
Sales assistant AI is the type of customer relationship management (CRM) software used to help with customer service, sales and marketing. It uses chatbot technology, speech patterns, sentiment analysis, and other forms of artificial intelligence and machine learning to help human representatives have more effective conversations with prospects and customers.
Sales assistant AI helps salespeople get inside the heads of potential customers by setting up a more personalized journey. With this technology, you are able to have longer, more meaningful conversations that customers are more likely to respond to. Sales assistant AI is an effective tool that can help you reach new clients and sell your products or services easier.
AI Technologies Behind Virtual Sales Assistants
AI is already revolutionizing the way businesses operate. It is helping companies make better decisions when it comes to sales and CRM.
There are several main AI technologies that are used in virtual sales assistant software.
1. Deep learning. It refers to building artificial neural networks that mimic the ways people learn with processes similar to human neural networks in our brains.
Deep learning networks can recognize patterns in data and find similarities between objects, images, or voices. With this technology behind the scene, AI-powered virtual sales assistants can appropriately read conversations with customers and give the best response possible for every situation.
2. Natural language processing (NLP). This technology allows machines to analyze human language as if it were a text document. It is very useful for companies that rely on customer service and online sales in eCommerce, for example.
For example, AI-powered virtual sales software recognizes the different types of sentences customers use when asking questions about your product or service. This way, you are able to have more effective responses when creating a personalized customer experience that appeals to potential customers.
3. Sentiment analysis. Customer sentiment analysis can be used as a way to identify customer feedback and reactions quickly. If a business wants to see how their customers feel about a certain product or service, this AI technology gives them the answers.
4. Predictive analysis. It allows businesses to improve their sales and customer service by predicting how successful a certain product or campaign will be. For example, you can use it to predict how many clicks a website ad or email will have.
These four technologies are all part of AI-powered virtual sales assistants. They help businesses create tailored conversations with their customers so they can build trust and sell their products or services easier.
Sales Automation AI: How Artificial Intelligence Improves Sales
What can You Do with Virtual Sales Assistant Software?
AI-powered virtual sales assistants can help you build your business and drive your sales.
Here are some examples of what you can do with sales AI:
— Build a better customer experience. Using this kind of AI software, you can create a personalized experience for potential customers. You do this by sending them personalized messages that address their exact needs.
What is unique about virtual sales assistants is that they constantly learn how to deal with different customers based on the data gathered from previous conversations and actions done on their website or app.
— Increase conversions and engagement rates. Conversations with potential customers are more effective when you use sales assistant AI. Not only does this technology help you build a positive relationship with customers, but it also gives you the chance to improve the user experience on your website or app.
It can answer questions that have kept potential customers from purchasing your product or service, and the best thing is that it does all of this automatically.
— Reduce customer support costs. Many businesses devote a big chunk of their budget to customer support. This is because they need human staff to reply to emails and phone calls from people who want to know more about their products or services.
AI-powered sales assistant software is usually cheaper than hiring relations people that need to be trained and may not always provide the best customer service. It is also more efficient than doing sales calls and emailing customers back and forth.
— Reduce your ability to make mistakes. AI assistants are good at reading between the lines of conversations with customers. This way, you can provide them with a personalized experience instead of trying to guess what their needs are based on a few lines of text or a picture they post on social media.
Top-10 Sales Assistant AI Software
There are different AI-powered virtual sales software and chatbots that you can use to improve your customer service, sales, and marketing. Here are some examples of them:
Troops.ai
Gong.io
People.ai.
Conversica
Live Chat
Drift
Deana.ai
Exceed.ai
Saleswhale
Tact.ai
Artificial intelligence technologies have been dominating the world of sales intelligence and customer analytics. For businesses, AI-powered sales software is extremely helpful in improving customer experiences and relationships. Talking to customers does not have to be frustrating when you have AI-powered virtual assistants at your disposal.
Virtual sales assistant AI is described as an artificial intelligence tool used for supporting customer service and sales situations. This AI can process natural language, usually via text chat or voice interaction, to provide an automated response to customers' requests. For companies using sales AI, it can reduce human effort required for customer support operations by replacing staff.