The AI (artificial intelligence) industry is increasing and advancing very fast. The pace of advancement in computer vision, natural language processing, deep learning neural networks, and machine learning algorithms is growing exponentially. There is a great deal of opportunity and real value in leveraging these technologies and improving the efficiency and effectiveness of today's online marketing efforts.
Read this article:
AI-powered marketing uses advanced machine learning (ML) algorithms to automate marketing functions, maximize return on ad spend, and achieve better targeting while personalizing messaging based on user preferences. It is also known as ML marketing.
Companies realize that they need another layer of sophistication in their digital marketing efforts to maintain a competitive advantage in what will be an increasingly crowded marketplace.
Insightful marketers are beginning to understand the mantra "Technology drives decisions." In a world with a 250% increase in targeted advertising from 2015-2021, marketers must adopt new innovative technologies and approaches to become more efficient and stay one step ahead — often by automating or utilizing AI-powered solutions.
What is Marketing Artificial Intelligence?
In its simplest form, AI for marketing means using intelligent computer systems to make and implement marketing decisions efficiently and effectively without human intervention.
Artificial intelligence, especially in the digital marketing world, has been defined in several ways. Still, generally speaking, AI is sometimes considered to mean any relatively long-term goal achieved through systematically and intelligently applying expert systems (programs that write and improve themselves).
From this broader definition, we can recognize that AI in marketing and advertising can encompass several specific applications with varying degrees of sophistication.
Here is how we define AI in marketing:
Artificial Intelligence Marketing (AIM) uses ML and AI-enabled algorithms to automate, enhance and scale the digital marketing efforts of a company. AIM aims to elevate marketing activities by predicting consumer behavior and delivering increasingly relevant messaging, products, and offers to the consumer.
The main types of AI used in marketing are:
Recommendation algorithms
Computer vision
Typical Applications of Marketing AI
AI can potentially change how we approach digital marketing and advertising altogether. If you look at how vital data is in business today, it's clear that artificial intelligence will be the backbone of making sense of all this data.
AI can augment a company's online and advertising capabilities and assist traditional marketing activities.
For example, AI lets personalize campaigns based on user preferences, determine marketing campaigns most likely to meet business objectives, develop predictive models for future outcomes, and help determine the best time to market a given piece of content.
More specifically, AI can be used in marketing automation software to automate tasks previously performed manually by marketing professionals. This ranges from customer segmentation, lead management, campaign creation and optimization, social media marketing, lead nurturing, and real-time bidding management.
AI for customer segmentation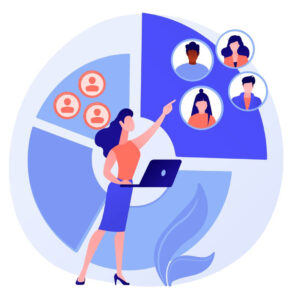 From a marketing perspective, it is essential to determine what segmentation of customer populations will generate the most profitable results. It's no longer a question of "how do we market to everybody?" The answer used to be "broadcast a message" and hope that it appeals to your target market. This can come from paid advertising, search engine optimization, or building a comprehensive social media presence.
Now, it's about creating highly targeted advertising that allows you to pinpoint your ideal customer. With AI, you can create highly targeted and hyper-personalized online ads that speak to specific groups of people or even particular individuals based on their interests and buyer intents. These potential customers will see your ads when they are more likely to make a purchase, which increases the likelihood that they will convert into actual customers.
AI for campaign automation and optimization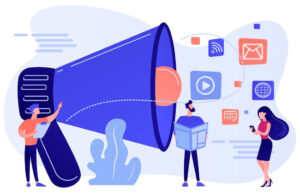 Artificial intelligence and marketing automation go hand in hand. According to a 2021 report from Adobe, "Automated campaign management is evolving from a fixed set of rules to the deep learning-based intelligent systems that can adapt and learn from changes in the audience."
In the future, this AI will give marketers the ability to track, segment, and personalize customer journeys based on their emotional traits. This means that campaign automation will move from a hands-off process involving automated tasks to an interactive one involving human participation.
For example, based on historical performance and up-to-date statistics, IBM Watson uses deep learning networks to recommend the best type of content to publish on a given day. If an email brings in more new subscribers than you were expecting, you can use AI to automatically create a new email campaign that better targets that audience. You can also use it to provide more relevant information about your listeners without sending out numerous messages with the same reworded information.
AI for social media marketing
AI is an excellent way to augment the marketing mix for social media on LinkedIn, Twitter, YouTube, TikTok, and Facebook.
Social media is still primarily a place to build brand awareness, invite potential customers to discover your product, and gain feedback. But AI is starting to change the way social media is used.
Using social media insights, marketers can learn how to craft content that optimizes their marketing campaigns. Right now, this is primarily being done using AI to identify key influencers who are relevant to your target audience. You can use this information to optimize your social media marketing campaigns by identifying the best places to post content and utilize influencers' networks.
Deep learning, which allows machines to learn without being explicitly told what to do, generates insights about potential customers' emotional states.
AI for customer experience
AI can improve customer experience (CX) in several ways.
Customer experience optimization is the term used to describe the work marketers do to optimize the experience that customers have with their brands. The goal is to ensure that your customer's interactions with your company are seamless; they should know what to expect at every stage of the CX process and how your brand will interact with them.
For example, an AI system could automatically generate an email template for each new customer based on their history and preference data.
AI for lead scoring
AI can be used to improve the accuracy of lead scoring in several ways.
For example, AI could create bespoke lead-scoring models that work much better at distinguishing between potential customers and non-customers based on the information they have provided about their intents and preferences.
You could also use AI to automate decisions around lead quality and price level. In this way, you do not have to put time and effort into manually choosing the best leads for each customer opportunity.
AI for SEO
Artificial intelligence marketing technologies can be used to improve an SEO strategy. AI can be used to analyze the search queries of your audience and the content they are sharing so you know how to target your keyword research and content production efforts.
AI analyzes consumer interest, dominates search terms, and identifies trending topics on Google. Hence, you know what subjects are relevant to your industry and which keywords you should focus on to boost awareness about your brand.
AI for lead nurturing
Lead nurturing is a digital marketing activity that occurs after a potential customer has expressed interest in your product and performed an initial action, such as filling out a form or downloading an e-book. It typically involves sending emails extending the sales automation AI cycle, encouraging the sales automation AI cycle, and encouraging further action.
AI can be used to create new lead-nurturing campaigns with variable content. For example, you could auto-generate a sales video based on the buyer's interests and intended product use which you might not otherwise have known. You could also create automated content such as email courseware or increase your online availability without requiring an email address from a specific user.
AI for marketing predictive analytics
Predictive analytics is a marketing modeling activity that uses historical data to predict future outcomes. AI can create predictive models to estimate the likelihood that a customer will respond to a specific piece of content or that a given product/service will succeed in a given market.
Many different AI applications can be used to augment or optimize marketing and advertising initiatives. AI can provide a competitive advantage, automate the mundane tasks that take up a lot of time and effort, and streamline several end-to-end customer journeys.
AI for account-based marketing
Using AI for account-based marketing requires the ability to create an accurate customer profile. Using machine learning, you could create a product/service that identifies the needs of your ideal customer based on historical data. This could be done with information about their personal preferences and company size to give you a better idea of your best customers.
For instance, IBM iX works with clients on their account-based marketing efforts. Analyzing data from multiple sources can help companies generate insights about their existing customers and identify potential customer accounts. This enables you to prioritize your target accounts and use your resources more efficiently—as well as increase the effectiveness of your account-based marketing program overall.
The Advantages and Disadvantages of AI Marketing
As artificial intelligence grows in popularity, so does the interest in the potential of the technology. But while many see AI as a solution to several problems, some believe it could threaten economic stability and moral values. While some have found the potential for AI to be promising, others have been more reserved.
In 2015, MIT researchers proposed that if machines were given free rein over areas such as healthcare and education, they could better serve society than humans. In 2016, UNICEF launched an awareness campaign to educate children on how AI can make them better leaders in their future lives using video games and robot assistants.
Back to marketing, AI has the potential to transform the way that marketers operate genuinely; however, it's essential to understand both the advantages and disadvantages of AI so you can reap the benefits without succumbing to the potential pitfalls.
The main three advantages of AI as a marketing tool include:
Improving marketing analytics by identifying weak points in a campaign.
Sifting through vast amounts of data to find customer insights that might otherwise get overlooked.
Eliminating repetitive and monotonous tasks.
The main three disadvantages to AI as a marketing tool include:
AI cannot honestly tell an authentic story. The decision-making process needs to be left to humans so they can guide the AI to get the most out of it
Some brands, especially smaller ones, cannot afford cost-prohibitive solutions.
Some consumers are more comfortable interacting with humans rather than machines.
As with any tool, there are both advantages and disadvantages. For many marketers, there is still a lot of uncertainty surrounding AI—both in terms of its potential capabilities and real-world application.
How to Determine the ROI of AI-powered Marketing?
Businesses are beginning to invest in AI solutions, but there is some concern over how the ROI on these investments can be adequately measured. A new study by Oxford Economics aims to clarify how AI can provide value for marketing and the enterprise. The report outlines six recommendations on how top marketing executives can successfully evaluate, implement, and measure AI using real-world examples.
The six recommendations include the following:
Define clear goals. Start with clearly defined plans focusing on business outcomes rather than technical capabilities. This will help set expectations for their ROI and solutions worth investing in.
Establish a data-driven approach. The more data you have, the better. The best way to achieve this goal is to establish a governance model that includes all teams involved in the AI project. Make sure everyone is aligned with the same purpose.
Take advantage of every available resource. Don't be afraid to use existing data sources to gain an initial foothold in your business knowledge base. Start with simple techniques, such as text analytics tools, and use them iteratively throughout the project. Make sure these tools are relevant and valuable for your business outcomes instead of just another device on the marketing tool belt.
Look for the right partners. Successfully implementing AI requires support from all stakeholders in the business. It would be best if you found the right partners to offer additional expertise in areas where your team lacks expertise, prove their value quickly, and provide a realistic ROI estimate for your investment.
Measure early and often. Don't wait until you have entirely defined your data governance model or until you have implemented all of your AI tools to begin measuring the impact of your investment. Start by deploying a QA process before developing an AI solution to make sure you understand what a robust system looks like.
Always be open to change. AI will change over time just as any other technology will. Be flexible enough to adjust your approach and improve your systems as needed.
The report also offers a deeper dive into the various ways marketers can combine their existing information with new insights from AI technologies to do things like:
Improve customer targeting and segmentation
Improve campaign performance across the board
Use big data tools to improve AI training and data quality. They also outline the pros and cons of implementing each approach, including their potential for ROI, time investment, and risk factors.
How can Companies Get Started with AI Marketing Software?
There are many different ways to start incorporating marketing AI into your marketing strategy. Still, it's important to remember that this tool should be used in conjunction with other devices, so it doesn't get in the way of your success.
The kind of AI marketing software you want to use will depend on the size and scope of your company. Smaller or more straightforward AI solutions can be implemented quickly and with limited resources. However, large companies with significant resources may need multiple approaches to reach their goals.
If you're looking for more straightforward solutions, you might consider evaluating individual features like text analytics or sentiment analysis instead of deploying an entire system like IBM's Watson for Marketing.
Here are nine examples of AI marketing software:
Looker for big data marketing analytics.
Salesforce Einstein for sales, marketing, and CRM.
SEO toolkits from Moz, Ahrefs, SemRush, and Alexa help marketers analyze audiences and increase website traffic.
Drift.com, Intercom.io, Conversica, and Livechat.com to implement virtual assistants, chatbots, and conversational customer engagement solutions.
Bing Ads, Google Ads, LinkedIn Ads, Facebook Ads, and other pay-per-click and social advertising platforms for direct response marketing.
Google Analytics, Adobe Analytics, and other real-time analytics platforms to help you measure the success of your marketing by tracking data on your website traffic and conversions.
ZoomInfo and their Clickagy DSP bring together information about people, products, and businesses to create a digital footprint for your marketing efforts.
HubSpot, Zoho CRM, EngageBay, Pipedrive, and ActiveCampaign to help automate CRM and marketing processes.
Grammarly Business, Zoho Writer, QuillBot, ProWritingAid, and ShortlyAI use AI to improve your writing skills and create unique, high-quality content.
The value of AI for digital marketing is still being challenged. The expected outcomes are easy, but the ROI is hard to determine. The question, "How will AI affect my business in the next year?" needs to be answered quickly. Otherwise, you risk being left behind by your competitors who have embraced the new technology.
AI has the power to disrupt online marketing and help marketers deliver results more effectively. Improved personalization, better targeting, and ROI are not questions of "if" but "when?" Many questions still need to be answered before AI is widely used in digital marketing, sales, and CRM. However, any marketer in today's fast-paced world can't ignore the potential ROI.