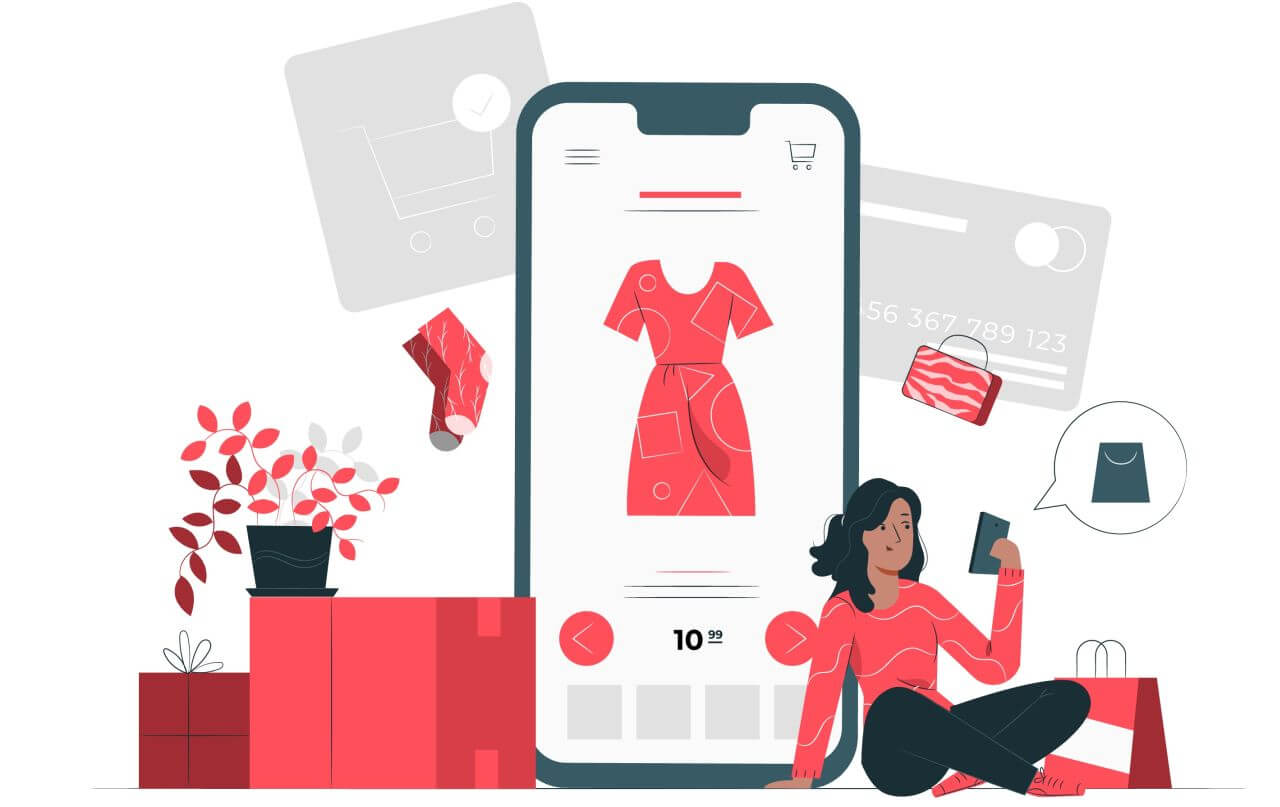 In spite of the growing impact of artificial intelligence (AI) on eCommerce ecosystem, there is still little understanding of what eCommerce AI actually is and how it can be used in online sales and customer service.
This guide will explore the concept of AI-driven eCommerce business and will provide an overview of its benefits and use cases. We will also talk about the possible trends that may arise with time as more online retailers turn to using artificial intelligence technology.
Define AI in eCommerce
The introduction of AI in the eCommerce sector has completely transformed the landscape of online retail by adding a level of automation and intelligence which has proven to be highly beneficial for both online merchants and customers.
In eCommerce, artificial intelligence (AI) refers to a collection of techniques, tools and software powered by machine learning and advanced analytics to create optimal online shopping experiences for customers through improved design, personalized recommendations, automation, and multi-channel customer support such as virtual assistants and intelligent chatbots. As a result, it helps maximize revenue from every visitor session as well as satisfy customer needs.
eCommerce artificial intelligence is typically categorized into consumer-facing AI and business-facing AI.
Consumer-facing AI. This category of AI-driven electronic commerce focuses on how brands and retailers can deliver the most relevant and satisfying digital shopping experience for their customers' needs. It is about finding ways to make an online store more intelligent, interactive, personalized and convenient.
Business-facing AI. As the name suggests, this category of eCommerce AI is all about making online stores smarter by automating many mundane tasks, increasing conversion rates, operational efficiency, reducing operating cost, and enhancing business growth.
Next, let's talk about how AI eCommerce has evolved over the past decade.
The Evolution of AI in eCommerce
Artificial intelligence and eCommerce are two of the biggest trends in the digital world, with many businesses and consumers beginning to use intelligent tools to help run their operations. As AI technology continues to combine and grow, it's crucial for retailers to be able to cater these changes in order not only keep up but also capitalize on this trend that could potentially change their business model entirely.
As you may already know, AI application in eCommerce started in the early 2000s. This was when online retailers began to embrace customer analytics and machine learning (ML) to improve the efficiency of their websites.
Early AI systems for online shopping mainly consisted of the ability to present consumers with suggestions for products and offers based on previous purchases and searched items. It also allowed for merchants to automate part of the selling process by providing buyers product information.
For instance, in the early 2000s, a number of online retailers and shopping directories provided detailed product information and made it easy for their shoppers to compare prices with competitors, find the products they wanted, see user comments and product ratings, and view a variety of other product information related to needed categories. Examples include ASOS, eBay, Safeway, Steam, Zappos and others.
However, the technology was rather primitive and its performance inadequate. AI systems were unable to effectively integrate into the natural flow of online shopping and were easily exposed as "fake reviews" by experienced buyers.
Flash forward to the 2010s, the state of eCommerce AI is looking much rosier. The technology is becoming more advanced, more powerful and more intelligent. Amazon, Google, Shopify, Alibaba, Netflix, eBay and other major eCommerce companies and platforms have been working hard to extend their AI capabilities in order to meet customer demands and improve user experiences.
The main reason for the progress is huge advances in deep learning algorithms and their application. Add to this the advent of big data and ever-growing online retailers' datasets – it turns out that today we have enough data to build an eCommerce AI system that can actually make a difference.
Benefits of Artificial Intelligence for eCommerce
Customer-centric engagement. By leveraging AI technologies, eCommerce store owners are able to personalize the shopping experience for their customers by delivering the most relevant products and information, leading to increased higher average order value (AOV), lifetime customer value (LTV) and overall customer engagement over time.
Attract new customers. Online retailers and eCommerce platforms can use machine learning and predictive analytics to target customers with video ads, messaging, chatbots and personalized recommendations. These AI technologies help them retain their existing customers and attract new buyers, which in turn boosts profitability in the long term.
Task automation. AI-based technologies act as an eCommerce automation suite, enabling automated tasks and processes such as sending emails, order fulfillment and payment processing, reducing labor costs and improving operational efficiency.

Challenges of eCommerce AI
Scalability. Given the unprecedented size and velocity of data generated by online retailers today, ensuring that AI technologies are able to respond within a reasonable amount of time to a natural language request is a challenge. It doesn't help that even technical staffs aren't always trained on how to operate new AI-enabled systems.
Cybersecurity. Malicious programs can also find it easier to target eCommerce stores that rely heavily on AI tools and technologies. Accordingly, eCommerce businesses will need to put in place a robust cybersecurity program that addresses emerging AI threats, as well as work with reputable providers of AI technology.
Human error. While AI technologies can be a godsend in eCommerce, they are not infallible. For example, just like in the case of the Facebook data breach crisis, AI-driven eCommerce platforms can also fail to provide best-in-class customer service.
Privacy concerns. With all their information on customers, online retailers are exposed to privacy and security concerns when dealing with AI-driven systems. Since the technologies don't give humans a place to fully control and influence buying decisions, it practically eliminates error and human bias and hence creates equal chances for both experts and novices to deal with these systems.
AI Technologies Transforming Online Shopping
Here are some of the main AI technologies that have transformed eCommerce ecosystem:
Machine learning. ML is the key technology behind many eCommerce AI features such as automated decision-making and product recommendations. ML technologies utilize machine learning-based systems to improve their performance over time, detect behavioral patterns, learn from customer interactions and make predictions.
Natural language processing. NLP has been a critical factor for enabling voice and visual search capabilities to become a standard practice for online shoppers instead of typing keywords into a search bar. It also enables intelligent chatbots to master the art of conversation with human beings.
Sentiment analysis. AI-enabled SaaS platforms are very efficient at analyzing user sentiment and what it means for the retail industry. For example, Amazon's Alexa provides a wealth of information about products, such as pricing, shipping and purchase history. This information is always up-to-date and available to customers.
Deep learning learning is an advanced technology that involves the development of large data sets that can be used to train sophisticated machine learning systems to make predictions based on large data sets.
Face recognition. This is a highly advanced AI technology that can recognize individuals by their facial features and match their images across different media platforms such as websites or social networks. Facial recognition has great potential to transform the eCommerce industry because face recognition is applied to facial scans of potential customers in order to streamline the point-of-sale transactions.
Autonomous delivery systems. Delivery vehicles and robots like Amazon Scout, Robby, TeleRetail Pulse 1, Kiwibot, Nuro R2 and many other allow online retailers to deliver goods directly to consumers, anywhere and at any time. This technology reduces costs for last-mile deliveries and minimizes shopping times for customers.
Predictive analytics. This AI technology is used to improve consumer-facing products, such as automated email marketing campaigns, recommendations and product rankings. Predictive analytics and machine learning help solve big data problems by developing processes that can identify consumer needs and predict consumer behavior based on intent data.
Although AI-driven eCommerce is in its infancy, it has already proven to be a valuable asset for online retailers and eCommerce providers like Amazon and Shopify. That is because AI technologies are extremely effective in performing repetitive tasks and identifying patterns in consumer behavior — two of the key elements that lie at the heart of eCommerce artificial intelligence (i.e. searching for information, making payments and providing customer support).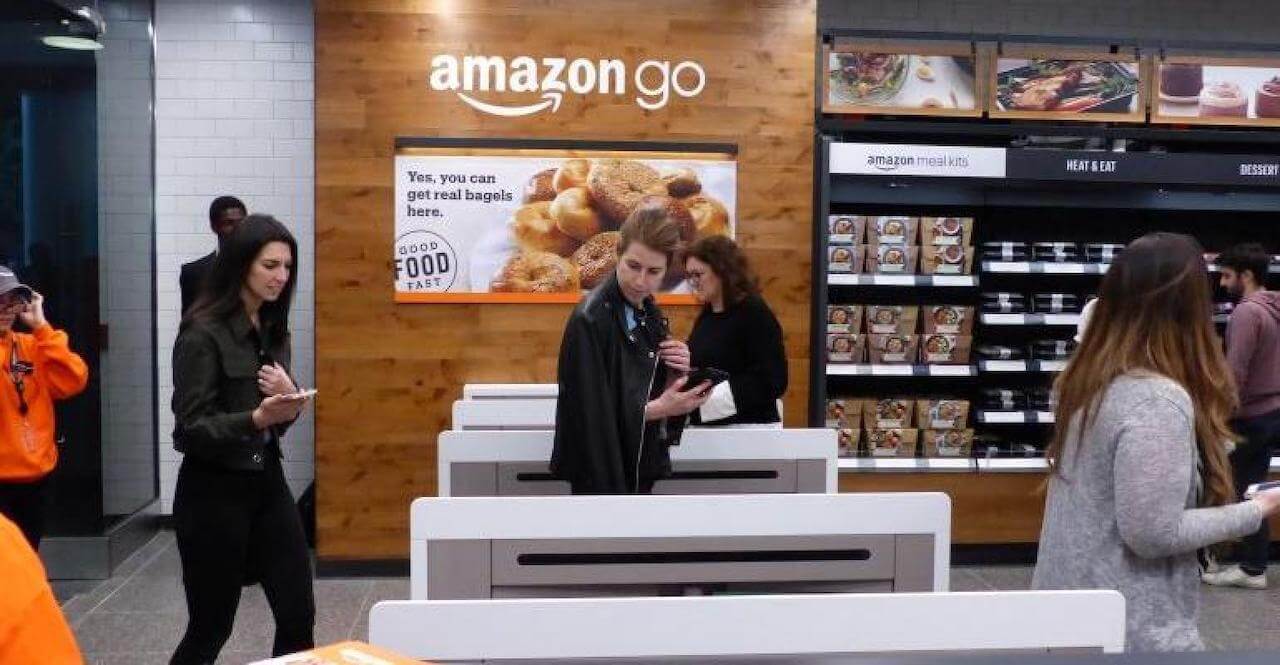 Today, online retailers are no longer competing on just the basis of price and convenience but have begun to offer innovative products or services as well.
For example, in 2018 Amazon open to the public the first cashierless store called Amazon Go that uses AI-powered cameras and sensors to track customers walking into the store. The shoppers pick up what they need, put it in their carts and leave without having to use the checkout counter since their payment details are already stored in the system in the form of Amazon Prime accounts.
Besides, Amazon is using AI-driven technology to help online shoppers find products that suit their exact needs – something not possible when shopping in physical stores. It is also using AI to manage its warehouses, making it possible for them to track inventory automatically and make product recommendations based on customer buying behavior.
Top eCommerce AI Predictions for 2022
More AI-enabled eCommerce services will be launched
With more eCommerce platforms looking to incorporate artificial intelligence into their websites and apps, the number of AI-driven services offered to online shoppers is expected to rise.
In 2022, retailers will increasingly look to adopt machine learning, natural language processing and predictive analytics to make better predictions about their customers' preferences and behavior, create personalized experiences for shoppers, increase productivity and drive profitability. Tech giants like Google, Facebook, IBM and Amazon are expected to improve their AI-enabled eCommerce services aimed at making shopping a more seamless experience for customers.
In 2022, the number of eCommerce AI services is expected to be as many as four times higher than it was in 2017, according to Statista.
More online shoppers will be using voice assistants
It is predicted that by 2024, more than 50% of online shoppers will use voice-enabled shopping assistants to make purchases. This will be in part driven by the fact that popular eCommerce platforms such as Amazon and eBay already offer voice shopping capabilities.
Conversational commerce will transform the online shopping experience
In 2018, online consumers spent 61% of their entire mobile commerce time on messaging apps. The rise of conversational marketing has ushered in a completely new paradigm for eCommerce platforms, allowing them to seamlessly integrate their offerings with popular messaging apps like WhatsApp, Facebook Messenger and Slack.
In 2022, eCommerce platforms will be expected to create and integrate chatbots, as well as other AI-driven conversational systems, into their apps and websites to help customers navigate the shopping experience more easily.
Besides, there has been a recent shift in the eCommerce world, with companies placing more importance on conversations with customers instead of broadcasting ads. A report by Deloitte indicates that only 33% of retailers use chatbots for customer service and engagement. However, this figure is expected to rise to 47% in 2022.
Machine learning and NLP will be integrated into a large number of eCommerce services
This trend will be especially evident in two areas — personalization and analytics.
In 2022, eCommerce platforms will be expected to use machine learning and natural language processing technologies to analyze customer data, understand their buying preferences and recommend items based on past purchase history. This will allow them to target marketing campaigns more effectively, create personalized shopping experiences and increase their sales.
Businesses will use AI to reduce costs and increase productivity
In the face of stiff competition from eCommerce giants, especially Amazon, businesses are looking for ways to compete in terms of cost and product range by turning to AI technology.
In 2022, many small and medium enterprises will use AI and automation to improve the efficiency of their operations. This could be achieved through natural language processing, image recognition or online monitoring tools that capture large amounts of collected data without compromising on privacy. The technology will be used to perform regular checks on their eCommerce systems, spot malicious files and alert businesses of any potential issues.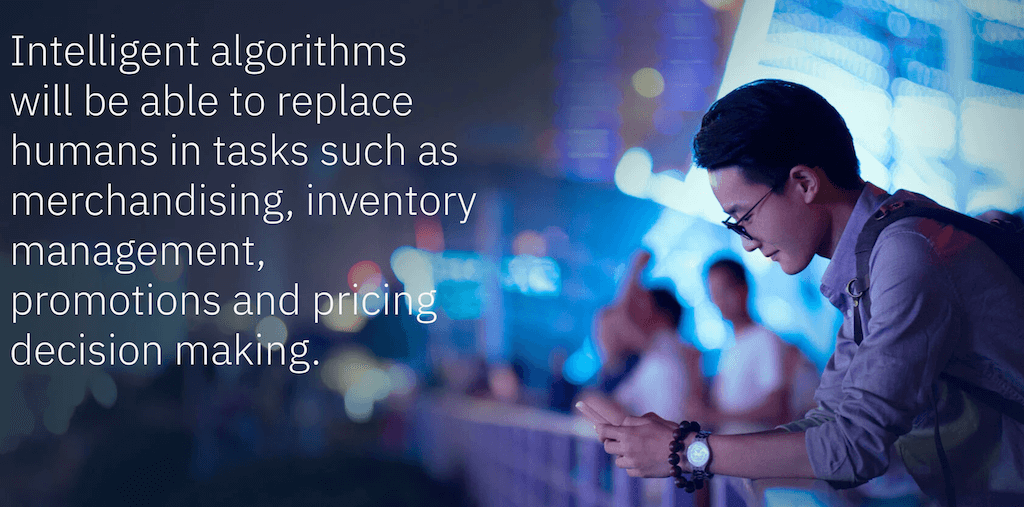 eCommerce AI will help predict customer behavior and make better decisions
Analytics systems will increasingly be used for making decisions in the areas of pricing, promotions and inventory planning based on data related to external market conditions as well as individual customer behavior patterns.
Intelligent algorithms will be able to replace humans in tasks such as merchandising, inventory management, promotions and pricing optimization making.
More eCommerce marketplaces will start using machine learning and big data to boost their online operations by carrying out predictive analysis for improved marketing, customer experience and profitability.