Top 5 AI SaaS Startups for Salespeople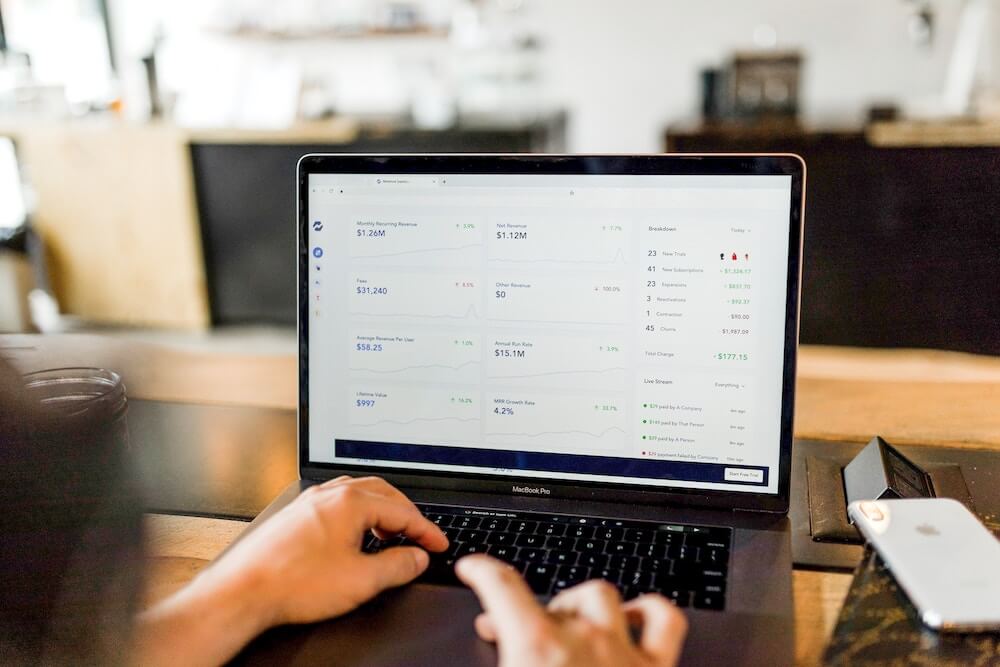 AI-first SaaS startups can meaningfully help analyze big datasets for patterns to deliver completely new CRM experiences, cloud solutions, and customer insights for salespeople. Their solutions enable businesses to learn a lot from custom data, making AI essential for sales growth.
More and more businesses begin to adopt cloud and artificial intelligence SaaS solutions in their processes to help salespeople close plenty of opportunities.
People.io, tact.ai, troops.ai, SalesDirector.ai, and exceed.ai the top 5 AI SaaS startups that offer businesses better sales intelligence using predictive analytics, NLP, machine learning, and recommender system.
Why AI-first SaaS startups get traction
According to IBM, Google, Baidu, Tesla, Apple and other giant companies, artificial intelligence offers people almost unlimited potential to do things better, faster, smarter.
In the next few years AI will learn to control vehicles – and the streets in our cities will be filled with safe driverless cars. Intelligent voice assistants in our wearables will handle routine tasks like arranging appointments, booking flight tickets or hotel, performing extensive research extremely quickly, and knowing just about everything the Internet knows.
Thanks to the growing demand for AI and connected economy, today the software industry provides a healthy breeding ground for launching new SaaS startups and initiatives for even "smarter" sales management.
From solving the day-to-day problems of salespeople to building smart website analytics and intelligent CRM systems, AI-first SaaS startups thrive in the disruptive market and differentiate their high-end intelligent solutions based on the value they deliver to customers.
In 2019 – and obviously, forward to the next few years – we see increased competition among high-tech SaaS startups for AI-driven sales and marketing.
There are three key reasons for this trend.
1. Fast market launch
It is about an average startup's ability to validate and ship an AI-based sales SaaS rapidly. What was taking years for a large incumbent business is now reduced to several months or even weeks. For example, at Digi117 it takes 6-10 weeks on average to ship a marketable MVP that gets traction.
The lean approach to product development enables software startups to launch sales intelligence (and many other) solutions faster and with fewer resources involved.
Freemium models, modern software frameworks and open source APIs, let a team of 3-5 people to quickly build a sales SaaS powered with the fast-growing technologies of the AI domain such as predictive analytics, content recognition, natural language processing, deep learning, and recommender engine.


It takes weeks on average to develop an MVP.
2. Price vs. feature
Another reason is features and pricing, or how many overhead dollars every new feature takes.
The increasing competition among sales intelligence startups is forcing the three giants – IBM, Microsoft, and Salesforce – and to exploit every real opportunity in the SaaS market, however, leaving some space for the startups to maneuver. It's about a price increase per new feature.
IBM Watson offers leading SaaS solutions based on AI and IoT. Their innovative technology relies on the ecosystem of connected devices to retrieve huge datasets that IBM AI uses to extract actionable insights for sales staff. When IBM ships a new sales intelligence update, Microsoft improves its Dynamics 365 Sales Insights suite, forcing Salesforce Einstein AI to follow the same segment too.
However, this battle ultimately ends up in increased prices and setup fees making it less likely for small and mid-sized companies to bank on these intelligent solutions. And emerging AI SaaS startups will intend to bring in value by plugging the gap in the incumbent solutions.


Startups can deliver high-end features to customers at lower prices.
3. Niche AI and deep learning
The third factor is that machine learning and artificial intelligence go verticalized. This trend is going to be increasingly visible in service-oriented markets such as sales, advertising, human resources, finance, education, etc.
Starting in 2019, the application of AI and deep learning will reach a point where AI startups and emerging companies have to move really fast in shipping their sales intelligence innovations. Besides, the focus should be set on highly customized services and solutions.
Perhaps, a better way for some AI startups to win in this race is to use extensive R&D findings and APIs provided by the top 3 players (IBM, Salesforce, Google) that offer their AI-based technology services on a freemium basis.
The platform companies will continue sharing their technologies and frameworks with startups because it is a great way to deliver high-tech software projects with fewer internal resources involved. What could be built as a marketable product by a platform company as IBM or Google would now be shipped by one or several startups using a simple API.


IBM, Google, Salesforce and other platform companies are fighting for startups.
5 AI-enabled SaaS startups for sales and marketing
If you are a cloud SaaS startup launching an AI-based sales intelligence solution, make sure you have 2-3 unique selling points as a key differentiator. So you are likely to use platform APIs to build a viable commercial product that delivers value to customers.
Also, see this article about AI marketing startups.
If you are looking for an innovative solution to increase salespeople effectiveness and drive sales growth in your company, here are five AI-enabled SaaS startups for you:
people.ai
exceed.ai
tact.ai
troops.ai
salesdirector.ai
people.ai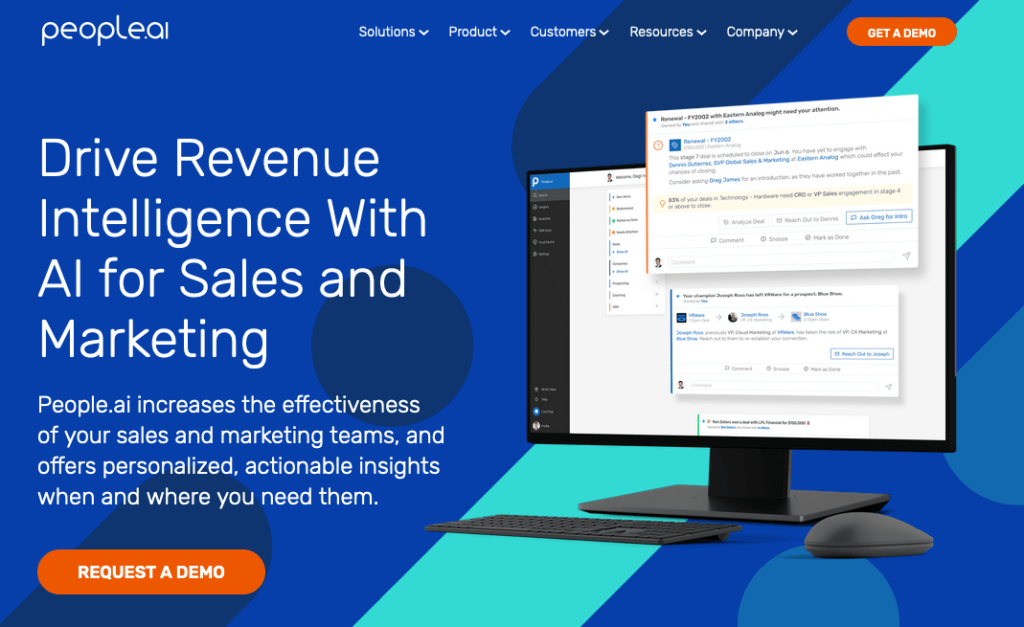 People.ai offers an AI-enabled revenue intelligence solution for sales and marketing teams. The startup uses AI predictive analytics and machine learning to help sales staff have the most effective and productive day possible.
People.ai is one of the fast-growing startups in the industry. In May 2019, they announced $60M Series C round.
Key features:
The Wire, a virtual sales assistant that captures and lists all the customer contacts and activities for salespeople.
Revenue intelligence: automatically collects and organizes all customer activities and contacts into lists (cards), eliminates manual data entry, increases salesperson productivity.
Campaign360: a sales pipeline management tool that lets marketers monitor leads, enhance attribution, and sync marketing with sales and customer support.
exceed.ai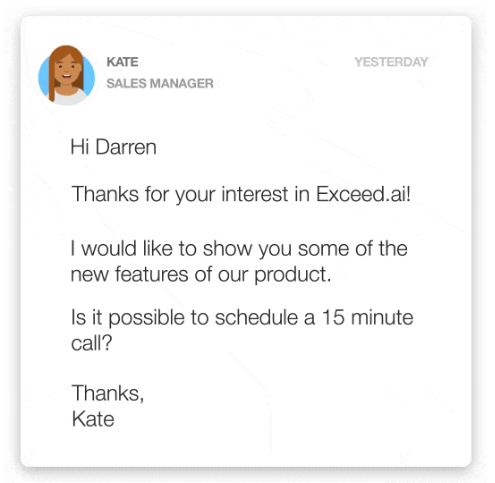 Exceed.ai is an AI-powered sales assistant SaaS solution that helps reps engage and qualify leads, manage appointments and automate sales.
Exceed.ai uses email campaigns and web chat forms to build two-way communications in a new, more effective way. This AI-for-sales solution dynamically captures leads, automates customer interactions and follow-ups, schedules appointments, and helps predict sales revenues.
tact.ai

Tact.ai is a personal assistant and intelligent workspace solution that helps salespeople control deals and plan meetings with leads through chatbot and voice experiences.
Tact.ai automates administrative tasks and augments reps to drive higher revenue growth. It offers a web client login platform and downloadable software for mobile (iOS and Android) and desktop (MacOS and Windows).
troops.ai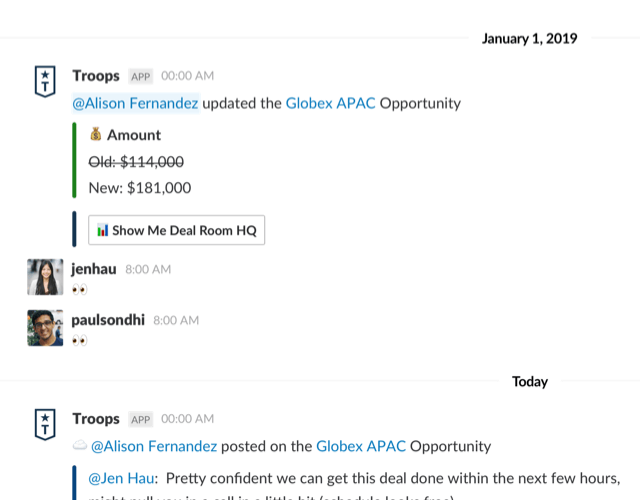 Troops.ai is designed to help sales teams work more efficiently and effectively by automating workflows and improving team collaboration. It integrates with Slack and Salesforce.
Key features:
Real-time leads and sales analytics that seamlessly integrates with Salesforce
Pipeline notifications, insights, and activity tracking across integrated Slack sales teams
Automate routine sales management tasks so that reps can devote more time to key accounts and customers.
salesdirector.ai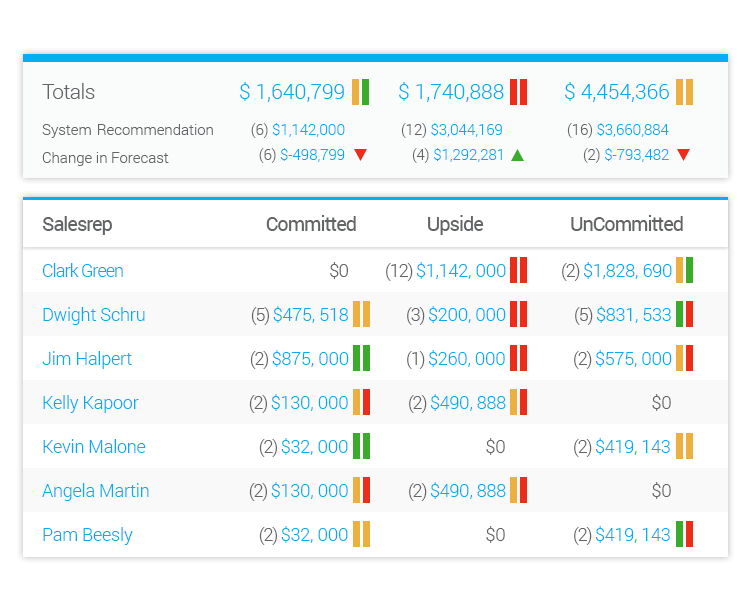 Salesdirector.ai is a sales forecasting and pipeline management solution for greater real-time visibility to sales revenues and activities.
Salesdirector.ai's artificial intelligence engine identifies every rep's pipeline coverage and generates suggestions on how and when to close deals. The solution reports on the sales rep's actual activities, helping team leaders track issues and keep things from falling through the cracks.