Edge computing and digital marketing: creating personalized experiences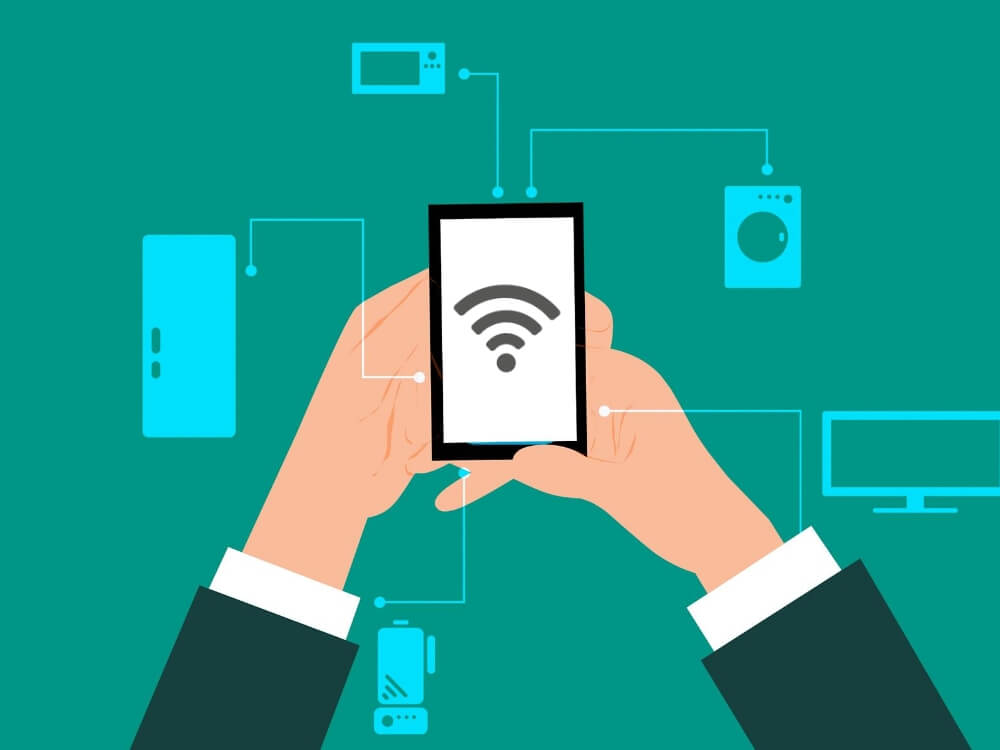 Edge computing appears to be a hot discussion point among innovation-focused businesses and professional marketers today. It is an emerging data processing technology that substantiates the growing paradigm of IoT (Internet of Things) in which it becomes increasingly comfortable for people to use connected devices and applications.
Edge computing based solutions can access and process data faster, at lower cost and with increased application efficiency, which means more data insights for marketers. Let's figure out what the heck edge computing is and why it matters for digital marketing.
What is edge computing?
Thanks to connectivity improvements and cost reductions in wireless communication technologies like WiFi6 and 5G achieved over the past decade, the number of IoT connected devices is growing worldwide (26.66B in 2019 to 75.44B by 2025 as per statista.com), and this trend allows various businesses – from retail, manufacturing, and food to industrial process plants and smart cities – to connect their products as personalized experiences to the universe of IoT. Edge computing is essential to this process.
Today tech giants including Baidu, Amazon, Tesla, Microsoft and Google are exploring the scope of edge computing for IoT hardware and software. Like artificial intelligence and blockchain, this emerging technology potentially gives rise to the next big computing race for the upcoming 3-5 years at least.
Edge computing is a distributed computing model that enables data processing "at the edge" of an IoT connected device, which means this device can access and manipulate data locally, within the device itself, or within a lean micro network of similar devices, without a need for sending requests to an external / remote server.
Edge computing creates a strong alternative tech to centralized cloud-based data processing, but it does not mean that "edge" deprecates "cloud". Instead, connected devices use micro data centers (within 100 square feet as per IDC) to do all the computing and logic work at or near the source of the data; and when it comes to more geographically dispersed data sources and devices, cloud computing makes sense to connect devices regionally or globally. As David Linthicum from Deloitte Consulting said, "edge computing is about making the cloud come to people."
Edge, fog and cloud for lean data processing
"Lean" data processing means getting the most value out of available data while minimizing resources, time and effort. Thanks to a lean approach, edge devices connect to the cloud for the computational processes via a network infrastructure called "fog computing". A combination of edge, fog and cloud network technologies enhances the data capacity of the IoT ecosystem that counts billions of users and their connected devices worldwide.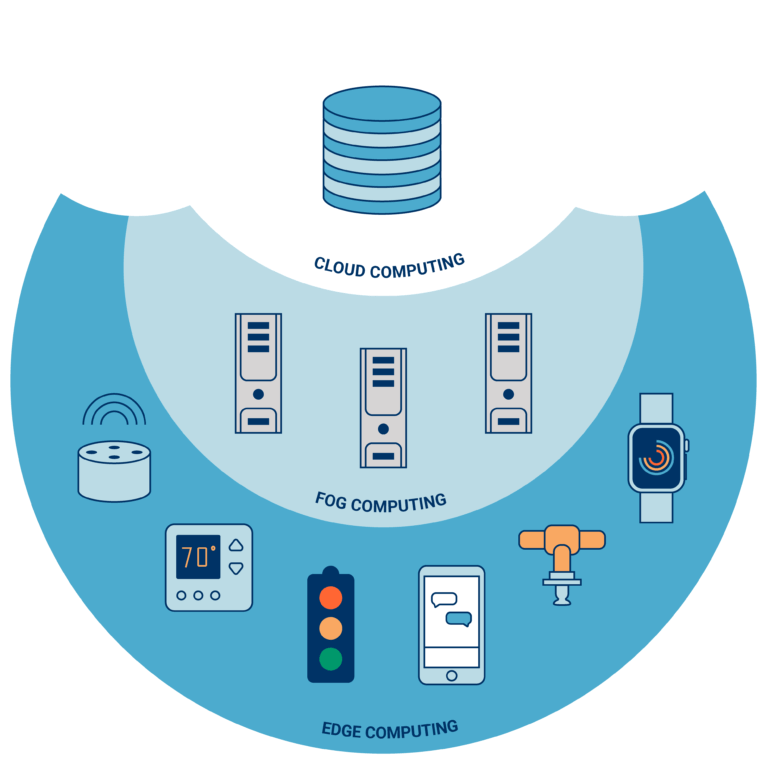 An example
Let's say, a transit bus has embedded micro-sensors that can immediately report the status of its engine to the driver. In this scenario, micro-sensor data is gathered and analyzed locally on the bus, by an edge device that has a sufficient processing power. It doesn't make sense to send the data to the cloud to see whether something is impacting the bus's operations or not; otherwise the computational process will take seconds too long or will even fail due to an Internet connection issue.
In this mentioned example, edge computing allows for an immediate report on engine status on the local device level. But when it comes to short-term analytics, fog computing comes into play. If the bus driver want to know whether the tires or brakes need to be replaced before or after the travel, fog computing will help find the right answer. Fog computing will enable an in-depth analysis of current and past micro-sensor data to report the driver about bus tires/brakes status at any given point in time and does not require to connect to the cloud
The challenges of edge computing
To understand the future with edge computing and how this emerging technology can possibly evolve over the next few years, it is important to know the roadblocks along the way. Although IoT-connected devices have an actively growing user base, the conditions in which they operate determine the challenges of this new tech and possible solutions.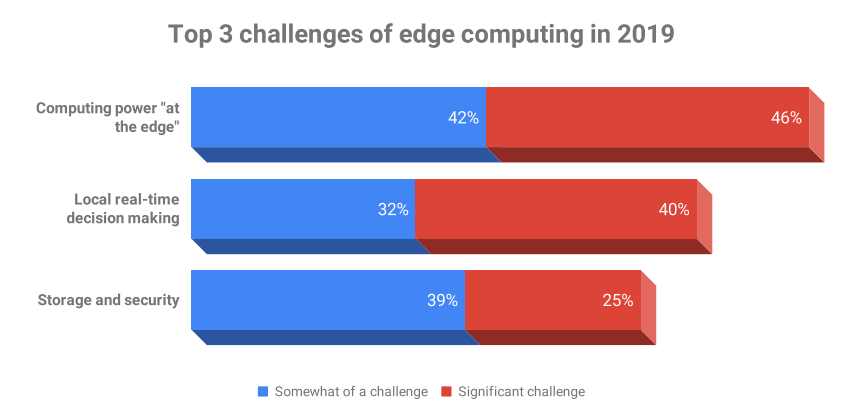 Here are top three challenges of edge computing in 2019 that IoT engineers and data scientists will be trying to address over the next five years.
#1. Enough computing power at the edge
On the software level, edge computing needs to be code-optimized and lightweight in order to be run smoothly by most connected devices for fast and secure local decisions, without the support of bigger computing power. In this regard, embedding AI and machine learning can possibly add value to streamline and optimize the system load of an edge device.
Edge devices should be equipped with sufficient computing power (incl. CPU, PSU, storage, memory) to process data locally.
On the hardware level, power supply and infrastructure are determining the performance and capabilities of edge-enabled solutions. From consumer electronics to industrial applications, IoT-connected computers need to be able to operate with a stable and sufficient power supply to ensure good user experience and solid data processing at the edge.
#2. Local real-time decision making
The edge requires data to be processed instantly by driverless cars or road traffic analysis systems, for example.
Connected devices need to be able to rapidly do local 1st data analysis, without remote cloud servers, so decisions can be made in real time.
#3. A vital need for storage and security
According to IBM IoT, the amount of user data generated by remote and mobile devices worldwide grows exponentially from year to year, so there is an obvious need to store and secure this data in a variety of IoT environments.
Edge computing and digital marketing
To be more specific about new opportunities that the IoT ecosystem powered with edge computing can deliver to digital marketing, let's figure out what potential this technology delivers to end users. See the table below.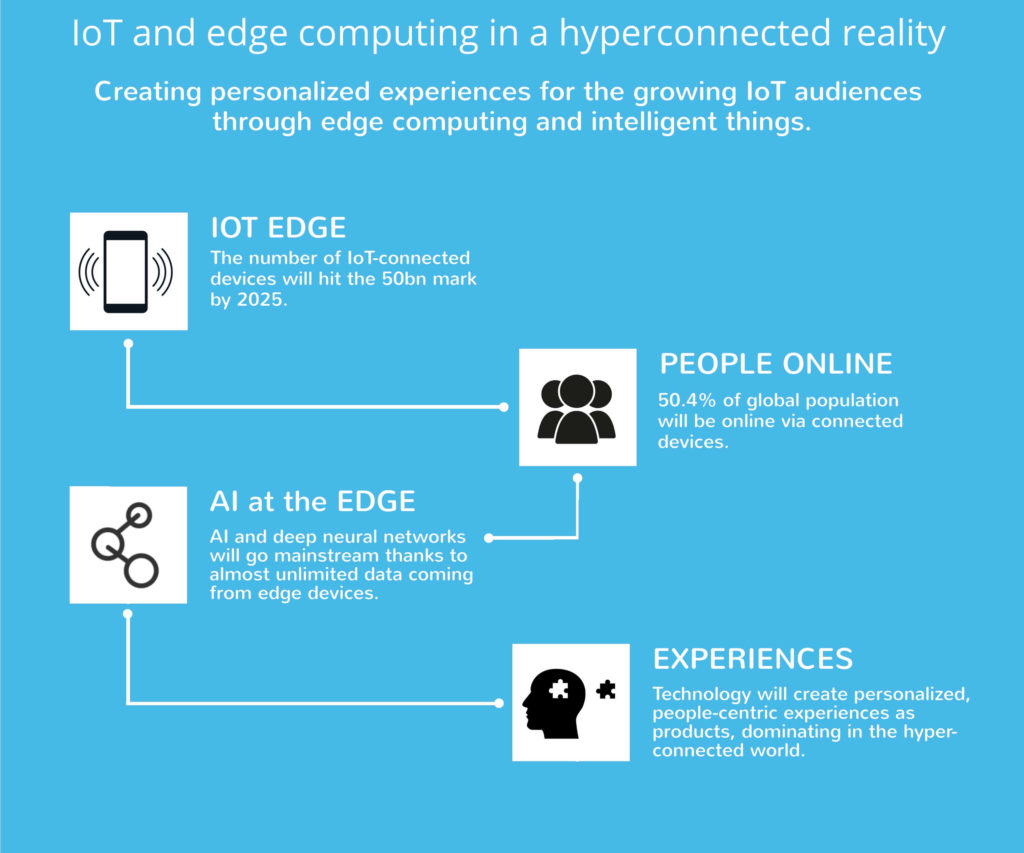 The marketing potential around edge computing technology is spread across personalization and deep targeting to create people-centric experiences as digital products. The IoT ecosystem will allow people to socialize in a hyper connected reality. Artificial intelligence will go mainstream thanks to big data coming from IoT devices.
This is how edge technology can improve digital marketing:
Targeting. Improved audience targeting based on accurate and transparent IoT device activity monitoring
Creatives. Ad creative redesign that uses customer data to increase engagement
Programmatic media. Optimization of RTB media buying and selling for connected devices (thanks to RFID tagging)
In-depth analytics. Creating better customer experiences based on in-device customer analytics and location data
Sales. Pre-sale, ongoing sale and post-sale service improvements
Retargeting and prospecting. Advanced retargeting based on data about IoT customer history and needs
Besides, IoT edge computing enables more accurate advertising based on device or user location. A city bus showing targeted custom ads to people depending on their current location, for example. Also, 5G cellular technology can soon move location-based mobile advertising to a whole new level, allowing digital marketers to scale up their campaigns for connected devices located almost everywhere across the globe.
The problem: too much data at the edge
The initial wave of IoT and AI technologies focused on consumers (B2C), allowing for more fun, socialization and self-education for end users, e.g. Snapchat face filters and Parla  AI-powered English teacher. However, the business sector (B2B) is yet to take the plunge and integrate "intelligent things" fully into their own marketing systems.
And there is a simple yet pressing problem: there is too much data at hand. According to CBInsights.com, the average person will generate 1.5GB worth of data per day in 2020. Without the help of AI and machine learning (ML), it is impossible to analyze vast sets of unstructured IoT data and get actionable insights for marketers – faster and in a secure way.
AI at the edge
The fundamental opportunity behind AI technology is the ability to learn from data. IoT insights for marketers will get better and better over time with embedded AI technologies such as predictive analytics and recommender system.
The convergence of the two technologies IoT and AI at the edge can boost innovations in digital marketing, driving B2B and B2C sectors to new levels of profitability. As the number of online users grows while the cost of data processing continues to decrease, we will see more "intelligent things" connected to the Internet.
Ken McHugh from MeaCora believes that IoT and AI can create fresh revenue streams and increase digital marketing efficiency of an enterprise. The Internet of Things, a bridge that connects people to everything from smartphones and wearables to self-driving vehicles and smart home sensors, allows marketers to get realms of IoT data about prospects. To further analyze large datasets, in the past few years, marketers have begun applying artificial intelligent technologies to digital products and services.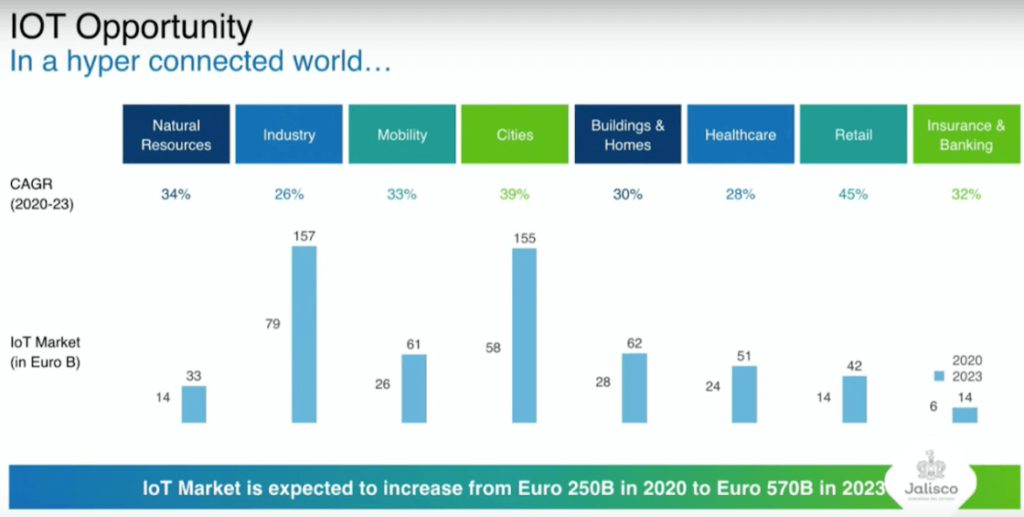 Just look at Facebook's facial recognition algorithms, Amazon's Alexa voice speaker or Google assistant to see how NLP, computer vision, recommender systems and other AI technologies have traveled in the past decade to affect digital marketing. Read more about AI techs and use cases.
IoT and AI will well be well-adopted in many B2B verticals – from autonomous vehicles and smart cities to agriculture, transportation and medicine. This trend will continue to strengthen in the next few years as cloud computing and traditional IT prove inefficient in some cases.
Building personalized customer experiences
A customer-centric business is as good as a customer's last best experience. The ability to create digital experiences that resonate with customers breaks down silos and allows marketers to move them to action. Personalization plays a big role here.
In the nearest future, most companies from many industries will be offering not products but digital experiences that wow customers and build loyalty. Personalizing digital experiences means using in-depth customer data and behavior analytics to create digital content that motivates action.
AI at the edge will improve efficiency by analyzing IoT data, automating routine tasks and making recommendations, to simplify marketing, sales and daily operations.